To enquire, use the form below - send a few images if you prefer.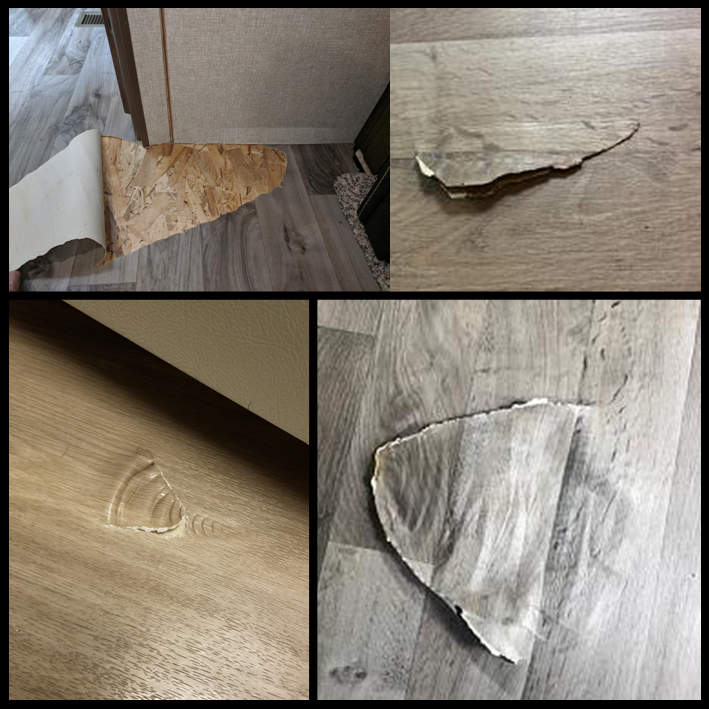 Vinyl floors, also known as lino or linoleum, are a common floor covering in many areas of your home - kitchens, bathrooms, conservatories etc.
They provide a cost-effective floor covering, however, they are subject to more damage than many other types of floor coverings.
Vinyl floor repair projects can be an easy DIY, but the potential to make a bad situation worse does exist.
We can (in most cases) repair your vinyl floor to a very high standard.
IF WE CAN'T REPAIR IT - WE DON'T CHARGE




The most common vinyl floor damage types are blistering, scratching, and tears.
Blistering is when a small section of the vinyl flooring pulls away from the adhesive on the subfloor. This vinyl floor repair is a straight-forward fix for us and we should have your flooring looking as good as new in no time.
With scratches and tears, replacing the damaged tiles or a small section is usually the best approach.
Smaller cuts and scratches can be fused with liquid seam sealer.
Larger cuts and scratches require a replacement patch.
Patching in new material requires an exact match to the original flooring.
Most people keep off cuts from the original fitting, and like most, we put them in the shed or loft - "just in case".
If there are no leftover pieces and the flooring is older, we may be able to lift a piece from an inconspicuous area such as under the refrigerator or from the inside of a cupboard to complete the repair.
If we run out of options, the alternative is a complete replacement of the whole flooring.
We supply and fit new, quality vinyl flooring at very competitive rates. Free estimates and we'll have our samples with us for you to look at.
To get in touch call - 01642 983088 or complete the form below.
Send some images of the damage if you prefer.